ApplyLeads E-mail List Manager
---

For a limited time ApplyLeads Pro is reduced to $89 USD from our original price of $199 USD.
Click Here to Buy Now for $89 USD

Are you outsourcing your Internet mailing list?

Is your subscriber data safe with your third party vendor or ASP that provides your email list manager service?

Do you want to have complete ownership and flexibility of your subscriber data?

With all kinds of ASPís (Application Service Providers) coming and going in this ever-changing Internet environment how can you be certain that your subscriber data is safe? If youíre a small to medium business site you have probably built up a substantial list of subscribers to your email list. Some may have subscribed on their own, some through promotions and incentives that you run but regardless of how your opt in subscribers got there, you want to keep them.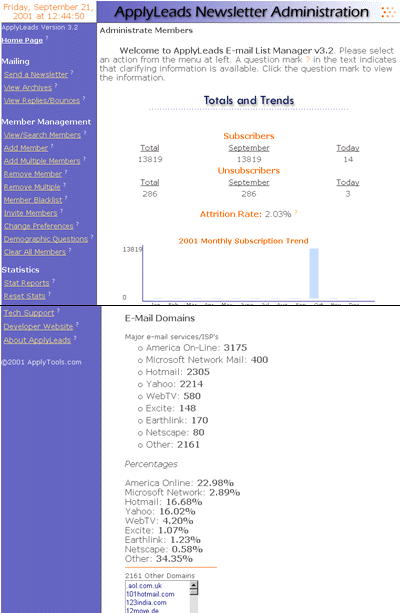 The above shows your admin interface stats at a glance, showing subscribe and attrition rates. Below that, a portion of your graphical demographic reporting.
Email lists have become an extremely popular marketing tool out performing even direct mailís (that junk mail you get) response rate. While direct mail costs about $1 per piece and returns a response of about 1%-3% response, targeted opt in email has an average responses rate of 5%-20% at the price of .01 and .20 per subscriber. E-mail lists have also become a measure of internet status that is greater than visitor traffic. What good are 50,000 monthly users to your site if you canít contact them? Aside from being an asset, opt in email lists have become a great bartering tool between web sites. Site owners are more inclined to trade advertising with loyal customers that have opted into their email, rather than trading a button, banner, or text link that may distract or loose a new customer or interested visitor.

All of these examples are just a few reasons why your site should start and maintain your own email list, and most importantly own and control all that goes on with your subscriber data. Donít trust your subscribers to a third party vendor or ASP.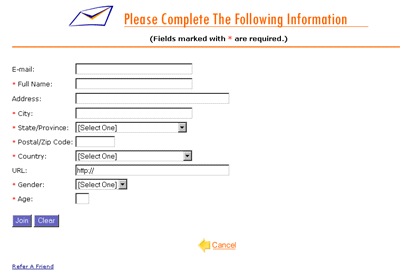 A look at the demographic form you can customize for sign-ups.


ApplyLeads provides full control of your email list, which will allow you to customize, maintain and publish to all those customers who have joined your list. You can create and monitor the performance of your email campaign with the statistical features included in our software. You will also be able to customize what the user sees after he signs up or if he sees anything at all. You have full control of how you want to service your subscribers and more importantly you have full control of the data they provide.



New Added Features: as of November 24, 2003
Limit number of emails sent to comply with your hosts bulk email limit (send 10 per hour, 50 per hour, 500 per hour, 1000 per hour etc)
Send targeted e-mail to segments of your subscriber base. (eg. Send to all Males or only to members in New York)
Features Include:
Store hundreds of thousands of subscribers.
Turn on or off our ďOne Click UnsubscribeĒ, so recipients can unsubscribe strait from the email
Send unlimited emails each month.
No limit on size of message sent.
Send e-mails in Text or HTML format
Single or Double Opt-in.
Customize Auto-reply message
Checks for duplicate emails.
Easy import of current opt-in list.
Download subscriber and unsubscriber lists.
View archives of all emails sent.
Customize sign up page to collect demographics or just collect e-mails.
Receive e-mail report after each sent message
Respond to replies and undeliverable (bounced back) mail
Generate graphical reports on your demographic and statistical trends
Preview your outgoing messages, spell-check them, and send test messages
Export easily to Excel™ format
Refer-A-Friend functionality add great viral marketing component.
And much more...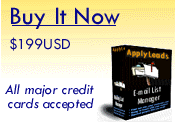 System Requirements

For help with installing applyleads please visit our support forums
ApplyLeads Install Support


Please read the technical requirements below to see if your host server is compatible with Applyleads.


The professional version, with full features currently sells for $89USD (per unique domain), and can be ordered by clicking below. If you would like to install Applyleads on more than one domain or website please contact us.


Our Money Back Guarantee


We know you'll love ApplyLeads we will stand behind our product with a money back guarantee. Try ApplyLeads 3.2 for 10 days, if you are not completely satisfied, return the script no questions asked and we will refund your full purchase price.


You may wish to consult the technical requirements below before proceeding. If you have any questions at all, contact us and we'll get back to you right away.






On sale now! $89


---
System Requirements:
To use ApplyLeads, you will need access to a server with a CGI-BIN, which
is capable of executing CGI scripts. This is usually only available with
professional hosting packages. If you do not have the necessary server capability,
contact us and we'll set it up for you.


Unix Servers

Server Software: Apache Web Server or equivalent multi-threaded server

Perl Version: 5.00503
Perl Module: Net::POP3 (available as part of libnet release here)

Mail Program: Sendmail or equivalent


Windows NT, 2000, XP, IIS Servers

Server Software: Windows Proprietary
Perl Version: 5.003
Perl Module (optional): Net::POP3 (available as part of libnet release here)

Mail Program: Perl SMTP Module

Additional Hardware: Requires network accessible mail server


The above configuration is not the only one which will work.

Depending on the exact configuration of your system, you may

be able to run this software from other platforms.