ApplyRefer Refer-A-Friend Referral System
---
Tell a Friend Script

Update ApplyRefer Version 2.3 just released with new features such as exporting your senders and receivers emails.

Online Demo » Tell A Friend Script
Order Now - Only $29.95 » Continue to Checkout

Apply Refer is a tell a friend script that allows you to place simple cut-and-paste HTML on your website that allows visitors to e-mail associates about your website. With this tell a friend script you can place the code in multiple places on any pages you like. But unlike other refer-a-friend tools you might have seen, ApplyRefer records all information processed, including e-mail addresses of users and recipients. Once the data is stored, you can quickly analyze trends in referrals at a glance. This includes raw numbers and statistics on users, recipients, and the turnover and usage rates of the tool (the turnover rate is the percentage of people who visit your site after receiving an invitation e-mail.


Best of all, it takes only a few minutes and little or no scripting knowledge to set up, and get your cut-and-paste code. Unlike most tell a friend scripts, you don't have to dig into the code to make changes. Everything is encapsulated in an easy to use control panel.



Features Include: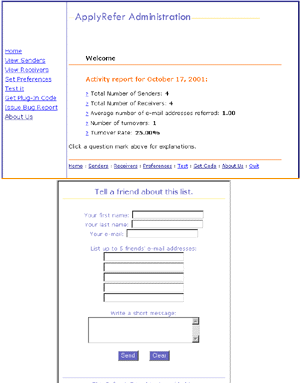 The above shows your admin interface, showing recent referrals and statistics. Below, a look at the referral form.
Admin Control Panel gives you full information on new referrals
See which website page is the most referred.
Turnover statistics tell you how many of those referred actually came to your site.
download senders and receivers emails.
Full control of outgoing e-mail subject line and body message
Dynamic text feature lets you plug in referrer's full name and e-mail address anywhere into the message, personalizing it. *
Send e-mails in text or HTML format *
Preview your e-mail settings from the easy to use control panel
Send blind carbon-copies to the administrator *
All e-mail addresses are exported to flat file, and statistics are calculated
Quick set up, no code manipulation required
* only available in professional version
Refer a Friend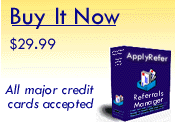 There are plenty of 'recommend us' scripts out there, but none of them offers the ease of use, flexibility and data management capabilities.


Upgrade to Professional


ApplyRefer Professional offers extra functionality such as statistics of the most referred pages of your website.


To order now securely over the web, click here.


You may wish to consult the technical requirements below before proceeding. If you have any questions at all, contact us and we'll get back to you right away.





Purchase Using Credit Card or Paypal




Need this Script Installed and hosted?
For $19.95 (for ApplyRefer) and $1.99 a month you can have ApplyRefer installed and hosted remotely.
Apply Refer Script with Hosting





---
System Requirements:
To use ApplyRefer, you will need access to a server with a CGI-BIN, which
is capable of executing CGI scripts. This is usually only available with
professional hosting packages. If you do not have the necessary server capability,
contact us and we'll set it up for you.


Unix Servers

Server Software: Apache Web Server or equivalent multi-threaded server

Perl Version: 5.003
Mail Program: Sendmail or equivalent


Windows NT, 2000, XP, IIS Servers

Server Software: Windows Proprietary
Perl Version: 5.003
Mail Program: Perl SMTP Module

Additional Hardware: Requires network accessible mail server


The above configuration is not the only one which will work.

Depending on the exact configuration of your system, you may

be able to run this software from other platforms.