Website Design
---

We have had great success in designing attractive and effective web-sites for the small business on a tight budget. We have a design and technical staff with ten years experience combined in the field. Let their knowledge expand your possibilities. Our websites are designed with four concepts in mind:

Easy Navigation
All content on your site should be accessible in no more than three clicks. Everything should be grouped into 7 or less major categories and displayed prominently on each page. Navigational buttons and icons should be attractive and "clickable".
Maximize the Fold
Most people who visit your site decide in seconds whether they will stay, or leave. Exploit this by featuring your most gripping content in "the fold", the top section of your home page which visitors first see. Home pages must be immediately compelling to hold users with low-attention spans.
Interactivity
People enjoy websites that they can become a part of. Offer a membership with special priviledges. Offer opt-in mailings from your site. For clients of your business, let them log-in and view their account. Or, features as simple as polls and opinion surveys. This all establishes a user "buy-in" that makes your visitors feel like they "belong" to your site, and encourages customer loyalty. Interactivity is essential to a Website's endurance.
Clean Work
Nothing will clamp up an end-users wallet like a script error on the order form. Your work must be flawless, yet appear effortlessly simple. No one will respect (or patronize) a business whose Web-site contains spelling errors, or poor grammar. Your images don't need to be dazzling, but they must be professionally clean. The smallest errors, though seemingly inconsequential, connote to the end-user a lack of attention to detail. This will cost you more customers than you can ever imagine, and can ultimately prove fatal to your business.
Download our price list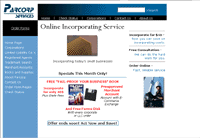 Above are a few examples.

Our technical staff is fully experienced with the latest developments in site design, as well as the basics. Technical features include:
Complete CGI perl programming services
SQL Database Creation and Implementation (including optional on-going maintenance)
DHTML including any advanced CSS-P concepts.
FLASH animations
Image Rendering and Animation via Adobe Photoshop and Adobe Illustrator

We also offer complete Search Engine positioning packages, from meta-tag generation to guaranteed top-20 keyword placement. Our services will get you indexed and highly ranked within months of your site's launch.



Download our price list, or fill out the form below with your initial specs and we'll contact you shortly.