ApplyFind Domain Name Mass Search
---

Whether you're looking for the perfect undiscovered name, or a steal that some corporation forgot to renew, the key to finding a domain name is diligence and volume-- and now that has never been easier. Search for up to ten domain names at a time, and get immediate information on registered names. Includes several features which make your search easier:
Designed for fast WHOIS information retrieval
Random Word Generator - Great for finding acronym domain-names.
Automatically Appends suffix of your choice (.com, .net...)
Auto-fill feature fills empty entries with random words
Check 100's of domain names in minutes
It's absolutely free.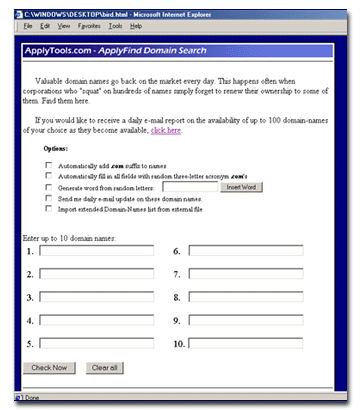 The interface allows you to immediately search up to 10 domain names for availability. Feeling lucky? Try our random name generator and strike it rich with an undiscovered name.

Why search one-by-one when with a single click you can search 10x faster and instantly have all the information that is available on any domain name? Enter your own names, or use the auto-fill feature that populates your selections with random entries, and capture a great, overlooked domain name now.


The big companies use tools like this all the time to register newly expired and released domain names as soon as they become available. Now you can beat them to the punch.





Use Free Version Now
ApplyFind PRO
---

If you're serious about finding a great domain-name, consider our professional domain-name finder tool. You'll receive an e-mail each day with hundreds or thousands of available domain-name listings, drawn from a word database of over 400, 000 English-language words. You can choose from standard words, prefixed or suffixed words (i.e., net-biz or e-code), or compund words (i.e., webwizards or firstmortgage). Or, you can select your own words to be checked.



Never miss out on a domain-name opportunity again. We'll even give you full access to check up to 500 domain-names at a time, whenever you want. Simply create a text-do cument with the words you wish, and the tool will check each word for .com or .net availability. Use any selection of words you wish, and use the tool as many times a day as you like.
Daily e-mail listing of 100's of availiable domain-names drawn from 400,000+ database
Personalize your own custom word lists
Complete access to run lists of up to 500 names, anytime, as much as you like.
Works with any .txt or .log file and checks each word for .com and .net availability.
Fully automatic, easy to use. Full tech-support for uploading and managing scripts included.
ApplyFind Professional Domain-Name Report
$10.99 / month

$99.99 / year (save $31.89)
---

Contact a Customer Service Representative