Apply PayPal Links Creator v 1.3
---

Download Free Below
Do you have many differnet products that you sell online?

Do you sell a product online and want to accept credit cards without the high costs of a merchant account?

Do you use paypal.com to accept payment for these products? If you don't have an account you can Sign up here for a PayPal Merchant account.

Apply Paypal Links Creator is a free computer download that makes payment processing easier for both you and your customer. For those customers who use paypal and frequent your site on a regular basis, this is a great enhancement that will help to increase customer satisfaction, as well as, the marketability of your site.
Accepting credit cards and instant payment can increase sales up to 300%. This software will create a customized link that will automatically take them to paypal.com, enabling them to make the appropriate payment transaction, all through the simple task of being copied and pasted into an email or website. This will serve as a real time-saver for both you and your customer.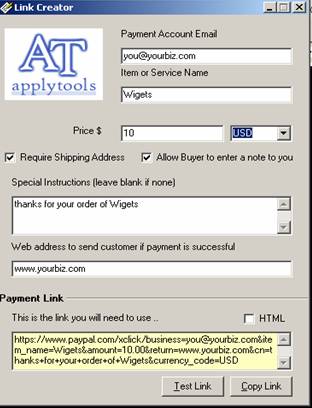 The above shows a screenshot of Apply Paypal Links Creator.
The program has a custom installer and uninstaller and even creates a desktop icon. If you have any questions, please email us. See features below.







Features Include:
Its Free From Applytools.com.
Ability to include your email and paypal user name in the line.
Add product name.
Supports multiple currencies including yen, euro, canadian, us dollar etc.
Add price of product.
Add the web site address to send your customer after they have made payment.

Download Full Version Now (FREE!)

If you don't have an account you can Sign up here for a PayPal account and get $5.
You may wish to consult the technical requirements below before proceeding. If you have any questions at all, contact us and we'll get back to you.





---
System Requirements:
To use Apply IP Message Blocker you should have at least:
Pentium I 66MGz
32MB RAM
Operating Systems: Windows 98, ME, NT, 2000, XP

The above configuration is not the only one which will work.

Depending on the exact configuration of your system, you may

be able to run this software from other platforms.