ApplyFrameCatcher Traffic Saver
---

As a webmaster you rely on exchanging links with other sites to share content and other features. But what happens when your users click on outgoing links on your site that send them away? Usually, they never return. ApplyFrameCatcher addresses that issue by putting all your outgoing users in a framed page in which they view your banner or HTML page at the top of the screen, which you can use to gently remind them where they came from, and how to get back. This is similar to the technique used by AskJeeves.com, which places a link to their home page at the top of all the search results.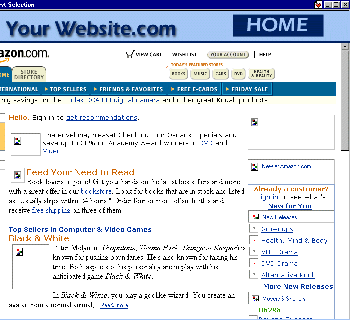 This user has just left your site for Amazon.com. Notice that although he is surfing on Amazon, your custom designed frame stays on top.

The great thing about this frame you designate is that it's persistent -- Your frame will stay in place above the current page the user is surfing until he/she ends their session. This prevents outgoing links from costing you traffic.

Features Include:

Fully Customizable. Create any kind of top frame with HTML or your favorite HTML editing program, along with javascript, CGI forms, applets, or anything else you'd normally put on a page. You can designate the size you'd like your top frame to be.
Many uses. Use your top-frame to remind users to return to your site, include a form that lets them rate the website they're surfing, place advertisements, or whatever.
This is especially great for link-directory sites whom must somehow keep their traffic, despite the fact that all their links send visitors away.
Outgoing links don't have to mean lost traffic. Keep your visitors where they belong with ApplyFrameCatcher.






---
System Requirements:

OS: UNIX type (Linux, Solaris). Windows NT, 2k depending on configuration

Server Software: Apache Web Server

Perl Version: 5.003
The above configuration is not the only one which will work.

Depending on the exact configuration of your system, you may

be able to run this software from other platforms.